The Scovel's are presently not breeding puppies. From time to time we may have information regarding litters available from trusted breeders.
When Helen and I first published our web site eight years ago we never planned to do any breeding until l realized after purchasing Callie, who turned six 7/10/12, that Helen and I might enjoy raising and selling an occasional litter. What really changed my mind was the success I had hunting Beau, Scout, and Callie in North and South Dakota as well as entering them in Hunt Test in several states.
Since Callie's second litter we decided that was enough for her and us. Given she is our only bitch we are no longer going to have any puppies to sell. Possibly, four or five years down the road if one of our three poodles has crossed the rainbow bridge I may look for another bitch for hunting purposes and decide to raise another litter or two, very hard to say. Continued below are some of the things we did prior to making a decision to breed Callie. We never were big time breeders but made sure to follow all the advice of well known breeders of our three poodles, Grace Blair, and Jac Harbour.
If we ever do acquire another bitch our goal will not be to make a profit by selling puppies. That will never happen given the costs of doing health tests prior to breeding (see Health Testing at VIP) and the thousands of dollars we've spent on hunt test entry fees earning hunt test titles (both AKC and UKC) to say nothing about travel expenses, motels, food, etc. Our goal was to produce well bred poodles; both parents Canine Health Information Center (CHIC) certified with proof to verify test results available at <offa.org>. A CHIC number can be used to verify test results simply by typing the CHIC number in the <offa.org< search box.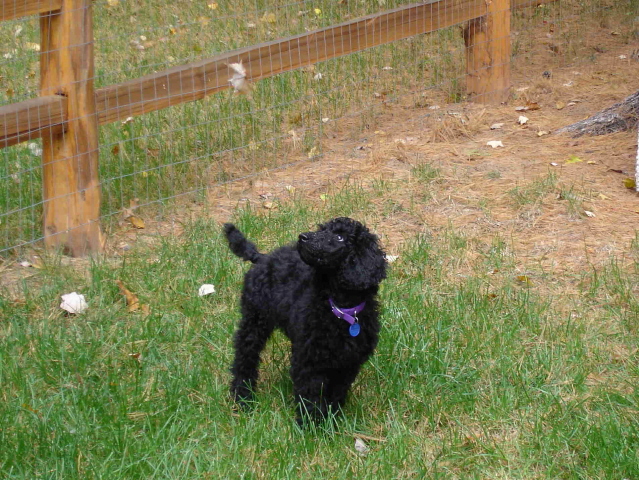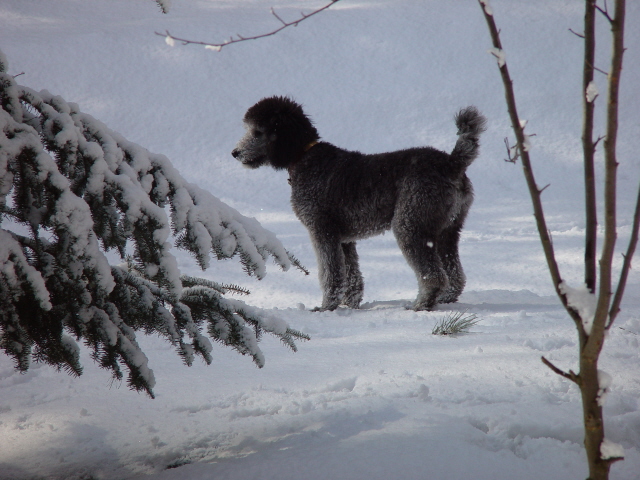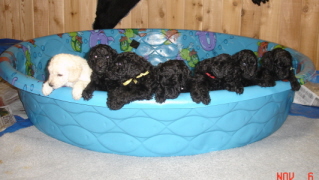 Callie and Beau had a litter (above) of 7 pups, 4 female, 3 males, 10/10/09. It was Callie's first litter. All were spoken for with 10 deposits accepted prior to her whelping. Three deposits were returned. Three of the pups are in WI, two in MN, one in AL, and one in CA. All are doing great as companions and all but one were trained for hunting, some by professionals.
Callie's second and last litter was whelped end of July 2011. This time Beau was not the sire. At ten he was getting up in years. I felt that was pushing the envelope a bit too far. Instead I used a fully health tested male (Woodie) that had proven himself in the field. His titles included hunting, agility and conformation champion--(CH). Visit >www.oakwind.org< reference his pedigree, pictures, Utube videos, titles and OFFA health test results.
That breeding produced mostly browns. The COI (coefficient of inbreeding) was 10-generation 2.31%, 12-generation 3.56%. It produced high quality performance poodles with great temperament, health, conformation and with training some fine hunters. That's only if the latter is one of many things new or experienced poodle owners chose to pursue with this very versatile breed. However, for us it was never necessary to be a hunter in order to purchase a pup.
All the pups were well socialized, had dew claws removed, tails docked, wormed, had first vaccinations, and groomed prior to pickup, I also did neuro stimulation between days 3 and 16, exposed them to various outside environments with lots of cover, swimming water and live birds starting at 6 weeks of age.
If finding a standard poodle for field work (hunting) is your main priority consider the following: (1) both sire and dam are proven hunters/retrievers on both land and water (2) possed hunt test titles or other performance titles (3) are health tested. Both (1) (2) and (3) will also provide a great pet companion. The first priority before deciding to purchase a poodle should always be as a companion, hunting depends a great deal on dedicated training, no different than with any breed.
There are breeders whose goal is to breed std. poodles that will hunt. But their first priority should always be to breed for good health, temperament, and sound structure first.
Our second and last litter sold with a $300 deposit down, returnable for any reason prior to the pups being born. Once they were on the ground deposits were no longer refundable. The total price was $1500. At this time buyers may expect to pay a little less or probably more for a std. poodle whose parents have earned hunt test titles.
Most reputable big time breeders sell only with a spay/neuter contract or as we did with limited registration, which precludes breeding. Or, once health testing as required by seller has been done by the new owner registration can then be converted from limited registration to full registration.
I'll be glad to offer advice to anyone that's serious about finding a std. poodle for any reason, including hunting. Contact me by e-mail found on the contact page or our phone number on home page.